Emotionally Focused Couple Therapy (EFT) - Externship in Berlin 20.-23. September 2014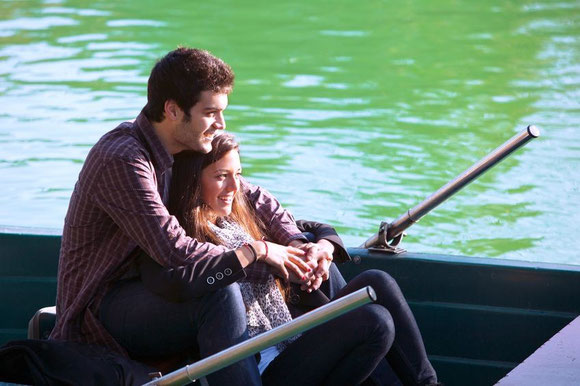 Welcome !
• Do you know of situations in your work, when couples argue too much, get caught in seemingly unsolvable vicious circles, blaming each other, withdraw and cause pain? Would you like to have effective methods to help these couples?
• Are you looking for methods to restore effectively feelings of connectedness, emotional security and love between partners?
• Are you looking for a comprehensive theory that explains the intense emotions that may arise between partners, and do you wish to have a clear framework in order helping you to treat your clients?
• Do you want to be more successful and enjoy your work as a couples therapist even more?
• Or do you want to understand couple dynamics better in your work with individual clients?
Then you are exactly right here!
Welcome to one of the most effective and innovative methods in the field of couple therapy!
The Emotionally Focused Couple Therapy (EFT) (link Successful) has been developed in the eighties by the Anglo-Canadian psychotherapist Dr. Susan Johnson. EFT has become a worldwide success since then. EFT grows also in Germany. Last October, Susan Johnson gave a 4-day training in Hamburg. A great success!
Everything started when she as a young therapist and doctoral student (with Leslie Greenberg) and after having many frustrating experiences began to analyze videotapes of couple sessions. She found out that the strong feelings of the partners in the office that seemed unattainable for well-intentioned cognitive interventions, are to understood as an expression of primal anxiety that each of us carries within ourselves, namely to lose the other or the love of the partner. Susan Johnson realized that the attachment theory, supported by modern findings of neurobiology and emotion theory, provides a congruent and plausible theoretical framework. This resulted in a clear treatment model with three phases, nine steps and numerous interventions by which the therapist step by step supports the couple by gaining emotional security and shaping the restoration of their love relationship .
Read more (Sucessful with EFT)
We know EFT for several years and were very lucky to learn EFT from well-known and experienced trainers (including Sue Johnson, Yolanda von Hockauf, Berry Aarnoudse). We are enthusiastic about the method and are sure that you will benefit from it as well.
EFT Training Externship from the 20 – 23 of September 2014 in Berlin
From the 20 - 23 of September 2014 a very special training Externship (link training) will take place in Berlin, in which you can learn and experience in 4 days the theoretical and practical basics of EFT. If you are a couple therapist you will be able to integrate them into your work immediately.
We are very pleased that we were able to invite the very experienced trainer Yolanda von Hockauf (Yolanda von Hockauf). With her clear, empathic and experiential teaching with many exercises you will learn the theoretical and practical basics of EFT in an optimal way. Yolanda speaks English. The workshop will be simultaneously translated into German.
Join us!   We look forward meeting you!
Isa Sadighpur

 

& Ingeborg Weser
                                         (Organisation)                      (Advisory Board)